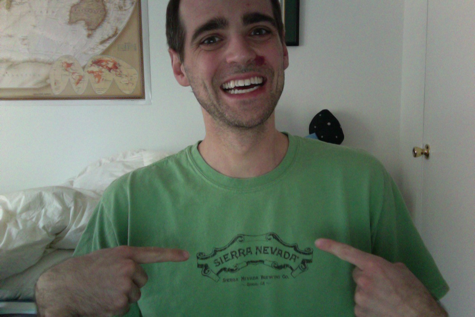 YES!
Guys, Sierra Nevada is giving away free t-shirts again! As you can see from the picture above, I still have mine and it's quite well worn. If these are the same shirts they gave away last year, they're pretty darn comfy.
Obviously since this is from an alcoholic company, it's only for Hiffers who are 21+. In order to get one, you have to take a picture showing "how Sierra Nevada enhanced your outdoor adventure! It could be around your backyard fire pit or during a recent trip to the mountains. Be inventive; wow the judges!"
Also, I've marked this as a contest because technically the fine print says entries "through May 31, 2013 … MAY be eligible for one free t-shirt per person." So there's no guarantee. You know me, I don't usually post free clothing offers because 9 times out of 10 they never come. But at least with this offer they're upfront about you maybe not getting anything. Though I say these shirts are awesome enough that it's worth snapping a picture outdoors and rolling the dice.
[Thanks to Hiffer Corine for sending this in!]