I know, I know, these vanished for a while, but I've got some great news. Hiffer Jen won a banana costume! Now everybody join in the chorus of peer pressure and hope she uploads a photo or two 🙂
On to the contests!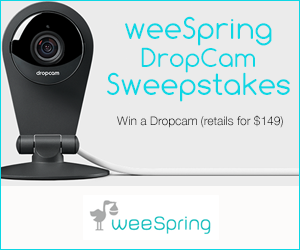 weeSpring Dropcam from Whole Mom – I thought this was just a webcam at first, but it's a $149, wi-fi enabled camera that lets you keeps tabs on kids, pets, or any other creature you might want to creep on. (Jan 2, 2014)
Ender's Game Prize Pack from IMAX – I won't lie, I loved the book and I can't wait for this movie. (Nov. 26)
Supercandy candy from Snap Infusion – Unheard of candy with no FDA approval sent by strangers over the Internet? Uh, yes please! (Oct. 27)
Nintendo 2DS from MakeUseOf – I really should learn not to post contests here that I actually want to win. (Nov. 1)
Trip to New Orleans from Sprite – They've also got a ton of smaller prizes like headphones and credit for Live Nation. (Oct. 31)
Good luck! Anybody win anything recently?