These TYLT posts have proven so popular that I've decided to make this a twice-weekly series! I'll still be publishing a contest post each Thursday along with a second post on Sundays, Mondays, or Tuesdays. Seeing how today's Tuesday (*looks at nearby calendar* … yup, that checks out) I figured I should publish this!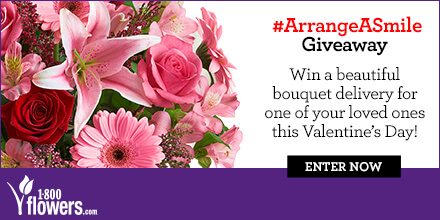 Flower Arrangement from 1-800-Flowers – Savings.com has teamed up with 1800Flowers to give away 10 flower arrangements to be delivered to the address of each winner's choice. Winners will be notified by Feb. 5 and arrangements will be delivered between Feb 9-11. (Feb 4)
$35,000 in Dental Work – Win free dental work, anything you need done – up to $35,000. ANYTHING?! If I win, I'm gonna make them put a racing stripe down my teeth and maybe add permanent glitter? (Mar 31, d)
Free vacations for life – Win free vacations for life (up to $4,000 travel credit each year). Upload a video of your "Happy Dance" if you were to win the prize. (Feb 19)
Cash Prize Contests
$1,000 (Feb 7)
$100 Visa gift card (Feb 9)

$2,500

(Mar 31, d)
$2,500 (Mar 31, d)

1 of 35 $1,000 American Express gift cards

(June 30, w)
Travel Prize Contests
Trip for 4 to Napa, CA (Feb 12)
Trip for 2 to Verona, Italy (Feb 13)

Trip for 2 to a castle in Ireland

(Mar 31, d)
Trip for 2 to Thailand (Feb 18)
Item Prize Contests
HTC One smartphone – Code is CONNECT and make sure to click the "click here" option first! Otherwise you'll get a free issue of Seventeen that you'll have to cancel. (Feb 8)
Fiat 500 (Feb 12)
Diamond ring worth $2,799 (Feb 14)
Limited edition Pink Fujifilm camera (Feb 14)
Epson all-in-one printer (Mar 21, d)
Good luck and please share with me via Twitter or in the comments below if you manage to win anything like Hiffer Drew!
@HeyItsFree I won a bottle opener from #tryyourluckthursday pic.twitter.com/87MSCVtNke

— Drew Antunes (@dantunes) February 1, 2016