This past summer, I wrote about earning money by scanning your receipt with ReceiptPal. This past week, as I cashed out an Amazon gift card with them, I started wondering what other apps will pay you for snapping quick photos of your receipts. Turns out there are a ton and my newest favorite app is Fetch!
If you've been using ReceiptPal, then Fetch will seem just like home. Scan your receipt with your smartphone, earn points, then spend those points on gift cards. You're literally getting paid for everyday shopping you're doing already.
After downloading Fetch for either Android or Apple iOS, create an account and enter promo code FETCH2K. This bonus promo code expires soon, but earns you 2000 free points – good for $2!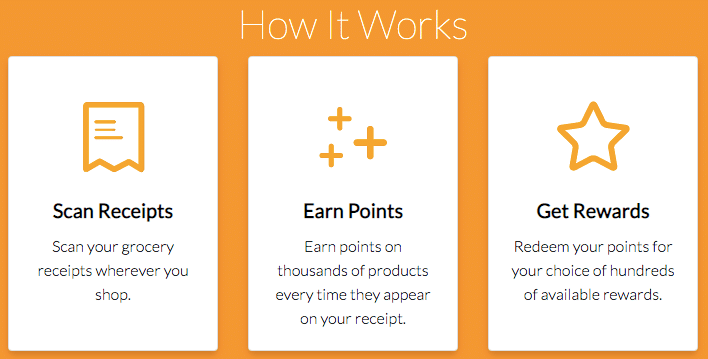 Earn your first gift card today
When I posted this last month, multiple Hiffers earned $5 gift cards right off the bat.
Thanks, Goob! In less than 10 minutes I downloaded the app, set up my account, scanned my grocery receipts from the last 2 weeks and earned enough points for a $5 gift card. This is awesome!!
Same for me as the previous commenter! Scanned the receipts I had in my wallet and along with the bonus (and a bonus for buying hot dogs, lol), got myself a $5 Amazon gift card.
I had a few recent receipts in my purse and, not knowing if they'd be accepted, decided to try and capture them. They were accepted and, along with the referral bonus, in about 10 minutes including sign-up time, I had enough points for a $5 Visa card. WooHoo! Of course I'll be proactive now and build toward a real reward. Thanks…
How Fetch Works
One thing you'll quickly notice is how much more info there is with Fetch! Not only do they scan your receipt, but it'll actually break down what you bought into categories and give you a nice summary.
On top of that, Fetch gives bonus points if you buy certain products. These items rotate each week and you don't have to buy them in order to scan your receipt and earn rewards. However, if you happen to buy any of them, you'll get a few hundred or even thousand bonus points.
My absolute favorite feature is you have 14 days to scan your receipts in Fetch. ReceiptPal forces you to scan receipts within 5 days, which left me forgetting to scan tons of receipts. Now, I let them pile up on my shelf. Then I scan them each weekend and toss them away.
I find I'm earning points, and therefore gift card rewards, much faster with Fetch. Not only are their rewards easier to obtain by having lower thresholds, but even the time I spend in the app itself is small. The camera function couldn't be faster to snap a picture and move on with the rest of my day.
One of my small gripes is that Fetch doesn't work with some retail receipts, like clothing stores. I kept forgetting about this and trying to scan retail receipts before my pea-brain finally started remembering.
Common Fetch Questions
Is there a limit to how many receipts I can submit? – You can submit up to 14 receipts per week.
Can I use coupons or other receipt rewards apps and still earn Fetch rewards points? – You bet! Fetch can be used with coupons and other apps, so you can save money and stack your rewards earnings on top. In fact, there's no reason not to use multiple receipt reward apps!
How long do I have to submit a receipt? – My favorite Fetch feature is you have a full two weeks (14 days) after the purchase date to submit your receipts.
Where does Fetch work and what stores participate? – Fetch works with most major grocery, convenience, liquor, drug, club, and big box stores. A full list of participating sites can be found on their website.
Have any other Hiffers used Fetch yet? What did you think about it!?