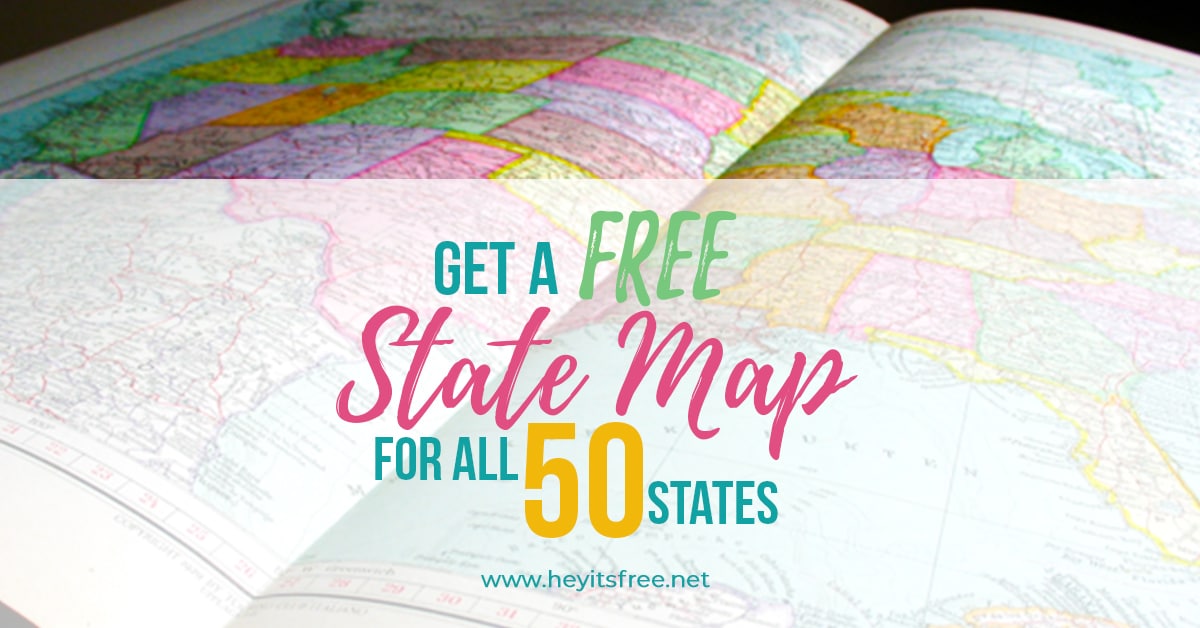 Below you'll find a full list of free state maps available from most state tourism departments. As a fail-safe, I've linked to any state Department of Transportation that also provides free maps.
Here's to never getting lost again!
If you're going on a multi-state roadtrip, you might want to consider an app like
RoadTrippers
. It's great for planning detailed trips and is available for all 50 cities, states, and regions.
Free Alabama State Map – This is the first .travel website I've ever seen. Cool story, huh?
Free Alaska State Map – Here's the first case of "so, does this come with a map?" (dot map)
Free Arizona State Map – Their site promotes "Old West activities." The hell is that? Like riding around on a horse and shooting pistols in the air? If so, Arizona, here I come!
Free Arkansas State Map – They have a plethora of travel brochures and even a Living in Arkansas guide for those considering moving there. Wait, where are you going? (dot map)
Free California State Map – I would have been ticked had they not offered some free maps, considering the fact that I see their freaking tourism commercial every 10 minutes.
Free Colorado State Map – Their site tagline is "come to life." Sounds like they're reanimating the dead out there.
Free Connecticut State Map – It looks like they finally got their act together and made a Getaway Guide. There's got to be a map somewhere in it, right? (dot map with an email setup to request state CT maps! – thanks K!)
Free Delaware State Map – The only thing I know about this state is that Vice President Biden and Aubrey Plaza are both from there. Does that make you want to visit more or less now? (dot map, look for the free options)
Free Florida State Map – When I first made this list in 2009, there was an "Authentic Florida Expert" everywhere on the site. She looked like a stereotypical grandma, but now she's nowhere to be seen. Uh oh, you know what that means… (dot map)
Free Georgia State Map – If I know Georgia, they'll also send you a peach. (dot map)
Free Hawaii State Map – Screw the map, their site has some cool pictures of volcanoes and lava!
Free Idaho State Map – Judging by their governors name alone (C.L. "Butch" Otter), he could probably beat up any other governor out there. You just know he wears a cowboy hat…and checking their website…yep! (dot map)
Free Illinois State Map – Note that you can request up to 25 free state maps at the DOT site, which are 24 more than I need. (dot map)
Free Indiana State Map – Indiana earns the distinction of being the first state site I've seen with a prominently displayed "free things to do here!" section. I guess that's what it takes to get people to come to anywhere in Indiana outside of Pawnee. (dot map)
Free Iowa State Map – Just the place to go if you're really excited for the 2016 Presidential election. Weirdo.
Free Kansas State Map – Quick, can you name three cities in Kansas?! Neither could I. (dot map)
Free Kentucky State Map – Their state logo is by far the best I've seen yet. (dot map)
Free Louisiana State Map – I have nothing bad to say about Louisiana. New Orleans is an awesome fucking town.
Free Maine State Map – While signing up they want you to "be sure to indicate which regions of Maine and activities interest you." Uhhh, does eating lobster and telling people I've been to Maine count as interests?
Free Maryland State Map – I can't tell you the number of times the state of Maryland has screwed me over, so visit with caution. I hated Baltimore years before The Wire ever aired. (dot map via the "printed map" section.)
Free Massachusetts State Map – I've still yet to ever correctly spell this state's name. It's the only item on my Bucket List I doubt I'll ever accomplish. (dot map)
Free Michigan State Map – Michigan's page has a section called "Air Zoo." I didn't check it out, but only because I'm sure it'll be a letdown. (dot map)
Free Minnesota State Map – I'm getting tired of writing these.
Free Mississippi State Map – I always forget how to spell this state. What comes after the Q again? (dot maps)
Free Missouri State Map – Their site advertises that internships are available. For the whole state? (dot maps and dot request form)
Free Montana State Map – They offer a free winter guide in addition to the state map, but I can give you said guide right here. Step 1: stay inside. Step 2: come outside once spring arrives.
Free Nebraska State Map – Nebraska wants us to "share the road trip." See, even their own tourism board thinks the best part of Nebraska is driving away from it! (dot map)
Free Nevada State Map – Fill out the form you'll get a free state maps for the price of none! (dot map)
Free New Hampshire State Map – Their phone number is 800-FUN-IN-NH. I wonder how many people call it looking for 800-DUNG-ON-I
Free New Jersey State Map – "It's never too early to begin planning your next New Jersey getaway vacation!" Really? Fine, I want to book a room for August 10-12, 2081.
Free New Mexico State Map – NM should capitalize on Breaking Bad and change their slogan to "Come for the meth. Stay for nature." They appear to charge shipping fees for their travel guides, however their DOT page says you can call or email for a free state road map. (dot map)
Free New York State Map – I always thought the "I Heart NY" campaign was for the city, not the state. Shows what I know.
Free North Carolina State Map – They offer a free winery and Civil War travel guide. It's as if they were targeting me alone. (dot map)
Free North Dakota State Map – I heard North Dakota exists, guess it's not a myth! (dot map)
Free Ohio State Map – Their website is DiscoverOhio.com Ahh, I found it! *points to map.* Call off the search and let's rename this place Goobtopia. (dot map)
Free Oklahoma State Map – I'm kind of interested in their additional "Agritourism Map." Is this a tourist industry that Oklahoma made up? (dot map)
Free Oregon State Map – I love that they also offer an official kid's guide to Oregon. Like it's that complicated. "Hey kids! Are your parents coming here? Then so are you! Now shut it." (dot map)
Free Pennsylvania State Map – This is me right now. (dot map)
Free Rhode Island State Map – Their site says "put down that spreadsheet, tear yourself away from your inbox for a second, and fill out this form." Uhhh … RUN, THEY'RE WATCHING US THROUGH OUR COMPUTERS!! (dot maps)
Free South Carolina State Map – Home state, represent! Don't be fooled by the domain name, it's legit. We're a sneaky bunch, just ask Major Robert Anderson.
Free South Dakota State Map – Ok, wait a minute here. South Carolina's slogan: Smiling Faces, Beautiful Places. South Dakota's slogan: Great Faces, Great Places. It's like South Dakota wasn't even trying!
Free Tennessee State Map – I doubt their slogan of "we're playing your song" is accurate. I doubt there's a lot of polka music being played there. (dot map)
Free Texas State Map – Their travel guide is 272 freaking pages long! That's not a guide, it's a book. (dot map page)
Free Utah State Map – First off, I'm extremely disappointed Utah removed the separate checkbox for German visitors, as it completely ruined my Utah being a vacation mecca for Germans joke. Second off, Utah is charging for maps now! Luckily I found a backup option, as their travel guide form has a box for a free highway map. (dot map)
Free Vermont State Map – I'm not sure how all the seasonal maps differ from each other, but it's nice knowing that I have so many options with them. (dot map)
Free Virginia State Map – I once living in Virginia. It was as exciting as this story. (dot map)
Free Washington D.C. Map – Our nation's capital isn't quite a state (even though it should be!), but you can get a free map via their visitor's guide.
Free Washington State Map – As a Mariners fan and frequent traveler to the Pacific Northwest, I must say I absolutely love this section of the world. Unfortunately they're yet another state asking money for a map. Their DOT offers a high-res online version though. (dot map page)
Free West Virginia State Map – I image WV looking like a scene from Justified but with more coal and moonshine. (dot map)
Free Wisconsin State Map – I spent some time in Wisconsin recently. Believe the hype. They've got some good cheese. (dot map)
Free Wyoming State Map I updated their slogan to "Wyoming: Forever west. Until continental drift takes care of that."
That took a lot longer than I thought it would. I need a vacation.
Free National Park Maps – This website has over 1,600 high-res scans of national parks! You can search by state or alphabetically, as well as download many of them.