Today's free Child Safety kit is designed to help out in unfathomable situation where a child goes missing. The last time I check, there were children everywhere in America, but this freebie is unfortunately only available to select areas. Enter your zip code here to see if they have any for your region / state / town / neighborhood?
I don't normally post offers that are only available in certain areas, but we're in a bit of a freebie drought and this could be a literal life-safer for those Hiffers who do qualify.
Has anybody signed up for this the past few times I've published it? What did you ultimately get in your kit?
Free McGruff Kids ID Kit
The free McGruff Safe Kids ID Kit is also available for request again. These kits include:
Tear-out fingerprint card with child-safe fingerprint ink
McGruff the Crime Dog tear-out emergency numbers card
911 Instructions
Personal Record Card
DNA Collection Tips
Fun, family-friendly quizzes and games reinforcing the safety message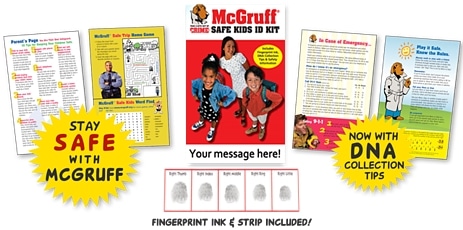 These kits are a solicitation for insurance, so make sure to use your free Google Voice & freebie email account so you don't get spammed. Just give them your legit mailing address and you'll get the free kit, but they won't be able to call, text, or email you.