I don't know about y'all, but I've fallen in love with having my files in the cloud. Anybody who seriously used multiple devices in the early 2000s had a personal thumb drive for moving files from their home to work to school. And I think we can all agree it was a giant pain in the 🍑. But now we have the cloud! And while the term might be silly, I couldn't love its functionality any more.
I personally use Dropbox and Google Drive the most. Since I'm on a budget, like most of us these days, I stay on their free plans. Dropbox offers 2 GB of free space right from the start, but it doesn't take long to run out of space. Thus began my quest to learn how to get as much free Dropbox space as possible. Turns out adding free Dropbox space isn't all that hard!
If you find yourself looking for some free extra Dropbox storage space for photos, videos, or files then check out all the different methods I found below. You can also check the official Dropbox help page on earning free space.
It's important to note that these methods are always changing. Since I initially wrote this, Dropbox has removed or changed a dozen of their free storage space offers!
Step 1 – Complete "Get Started" Tour for 250MB
After creating your free Dropbox Basics account, the first page you'll want to visit is the Get Started tour.
You only have to complete any 5 of the 7 steps below and you'll earn a free 250 MB bonus cloud storage.
Take the Dropbox tour – The tour teaches you the Dropbox basics.
Install Dropbox on your computer – Installing Dropbox on your computer is the best way to make sure your information is always with you.
Put files in your Dropbox folder – Put your documents, photos, and media into your Dropbox folder on one computer and they'll automatically appear on any of your other computers that also have Dropbox installed.
Install Dropbox on other computers you use – Anything in your Dropbox will stay up to date across all of your computers and mobile devices. Your information is always where you need it.
Share a folder with friends or colleagues – Dropbox shared folders allow you to share photos and videos, or work together on projects and reports.
Invite some friends to join Dropbox – Invite your friends to join Dropbox, and for each one who installs Dropbox you'll both get 500 MB of bonus space.
Install Dropbox on your mobile device – Access your files everyplace with Dropbox mobile for Android, BlackBerry, iPad and iPhone.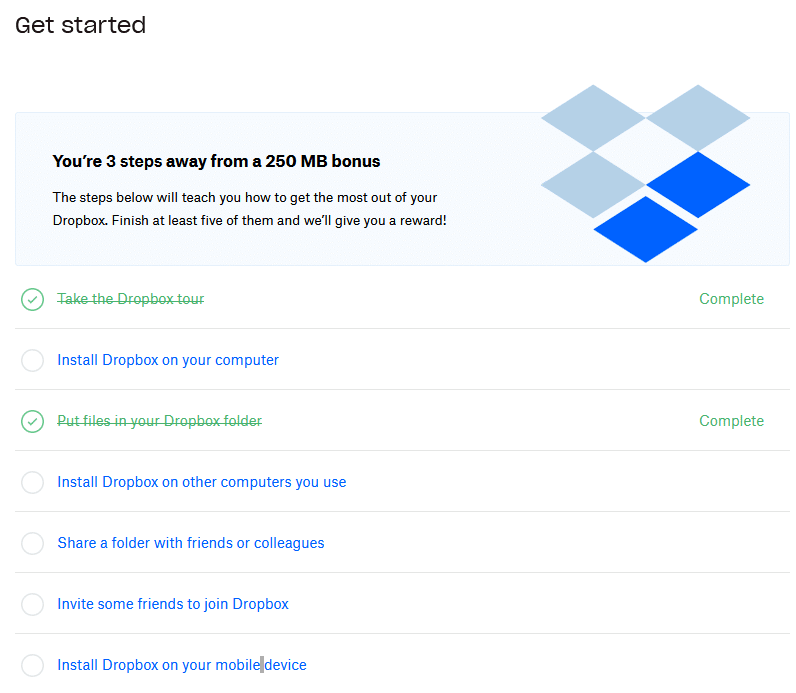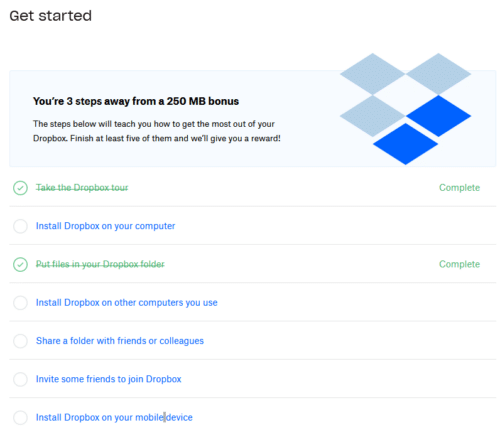 As you can see, I've got a few more steps to complete!
Step 2 – Give feedback for 125MB
Next head over to their Get Space page and tell Dropbox why you love them. Click on "tell us why you love Dropbox" to send them feedback and you'll earn 125 MB in free space!
There's a 90 character limit, so they only want you to write a sentence or two. Type whatever you want and you'll be rewarded instantly with your free space.
You couldn't ask for an easier method to earn some free storage room.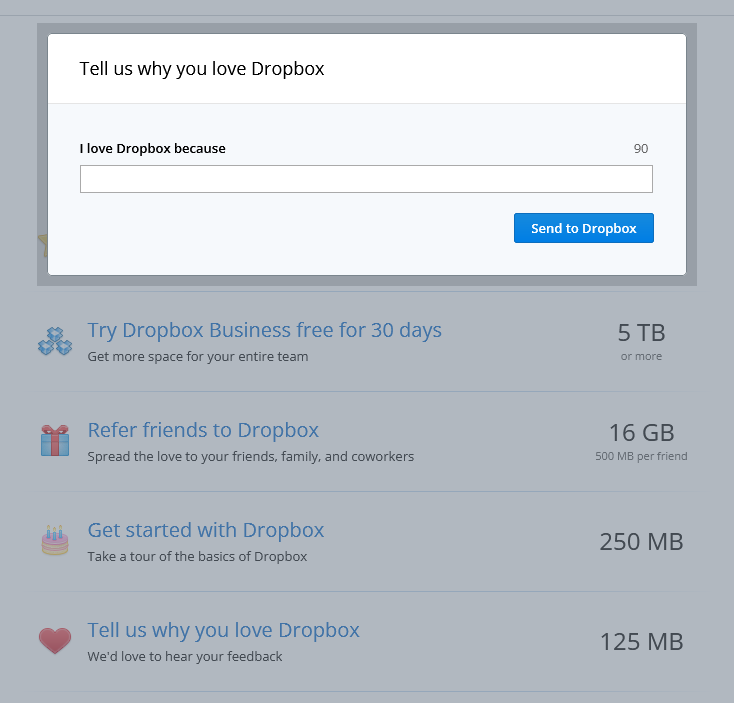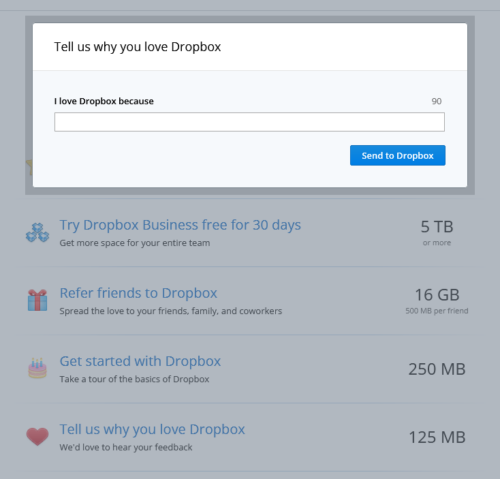 Step 3 – Refer some friends for 500 MB each, up to 16 GB!
Finally comes the question of "how many friends do you have?" The last method of free Dropbox space requires you invite friends to use Dropbox. For every friend who joins with your referral link and downloads Dropbox, you'll receive 500MB in free space. You can get up to 16GB(!) in referral freebie storage here, so that means you'll need … let's see, carry the 2 … divide by 1 … order more donuts … ah yes, you'll need 32 friends in order to get all this space.
I'll admit, I've only referred 4 or 5 people, but that alone is worth at least 2GB of space, which covers a lot of meme photos and goofy, drunken, 2am videos! Plus since it's free to make a Dropbox account, it's not hard to convince a friend to sign up.
Step 4 – Participate in the Dropbox Community for 1 GB
Confirmed as recently as 2019, you can now earn free space by contributing to Dropbox Community forum.
When helping out fellow members of the community, your answers may receive likes or be accepted as solutions by people who posted the question or Dropbox moderators. When your answer earns enough likes or gets marked as solutions, you might by rewarded with a 'Mighty Answer' badge. When you earn this badge, you'll get 1GB of additional space in your Dropbox account.
Step 5 – Free Dropbox Space for Select Companies
According to this Dropbox support page, you may be eligible to redeem promotional storage space on your Dropbox account if you've recently gotten a new device or created an account with one of the following companies:
For detailed steps on redeeming a promotion, or to see specific terms of a promotion, click the name of an organization above.
Potential Free Dropbox Space for ??? GB
Dropbox hasn't enabled additional storage in exchange for creating a strong password for your account, but they've hinted they've considered doing so as a reward for users.
"One of the things we're working on right now is a project we haven't broadly disclosed yet, but it's really to incentivize consumers to go through a security health check both in terms of the authentication settings, the sharing settings, etcetera, and when they complete that they may get additional free storage space as an incentive."

Patrick Heim, Dropbox's head of trust and security – July 2015
It goes without saying a stronger password is best for you no matter what, free space notwithstanding.
In addition to a strong password, you should strongly consider enabling two-step verification for your account. This is actually a more secure move than simply changing your password and it's easier to track. Companies like Mailchimp already give discounts for enabling two-step, so it's not crazy to think Dropbox couldn't be far behind.
Expired Free Dropbox Space Methods
All of the methods below used to be actual ways to get free space. However, they've all since expired. I continue to keep watch and will republish this post if/when any of these return!
Connect Dropbox with your Facebook for 125 MB
There was an option to in the Get Space page from about 2010 until 2019. All you had to was add the official Dropbox app to your Facebook account and link the two. Doing so would automatically increase your space by 125 MB.
Connect Twitter with Dropbox for 125 MB
There also was also an option to connect your Twitter account to Dropbox for 125 MB. It involved adding the official Dropbox app to your Twitter account. This offer was similarily valid from 2010 until it expired in 2019.
Follow Dropbox on Twitter for 125 MB
The final social media offer Dropbox held was following them on Twitter in exchange for 125 MB in free space. This offer seems to have vanished around 2020.
Enable Carousel camera upload for 3-5 GB
Back when Dropbox was developing their mobile automatic photo upload feature, they gave away 5 GB of free space to anybody who tried out their beta version. Unfortunately this freebie was downgraded to 3 GB of free room and then ultimately discontinued in early 2016.
Install Mailbox on mobile for 1 GB
Dropbox acquired Mailbox in 2013 and decided to celebrate the acquisition by offering a free 1 GB of space. All you had to do was install the Mailbox app for either Android or iOS and then link your Dropbox account within the app.
This offer ceased to exist sometime around 2015.
Install & Use Dropbox on select Samsung or HTC devices for 48 GB
Man oh man this was the huge offer back in the day, around 2012. 48 gigs of free space was nothing to scoff at a decade ago! People were going into cell phone retailers and downloading Dropbox onto floor phones just to get the free space! Once Dropbox was linked to a phone, that phone was no longer eligible for anybody else to get the free space. But it was worth it – I can speak from … experience … 🙂
This offer actually lasted for way longer than I expected, but eventually was discontinued around 2015. As of October 2019, Dropbox no longer even supports connections to Samsung My Files or Photos app, which is what this promo was actually originally promoting.
Upload photos to the Dropbox forums for 4.5 GB
In 2012, Dropbox was offering 500 MB for every photo you uploaded to their forums using their new photo app.
I genuinely don't know when this ended, but I would imagine it was around the same time they discontinued their separate photo app.
Free Dropbox Space Summary
At the current time of edit, this means you can 375 MB of guaranteed free space tonight and get up to another 16 GB of free Dropbox space with referrals.
If you want to see all the free space you've managed to acquire, here's how to find the Dropbox free space page:
Click the icon with your initials in the top-right corner.
Click Settings.
Select the Plan tab, then click "View more earned space" near the bottom of this page.
So there ya have it! Enjoy the free space!