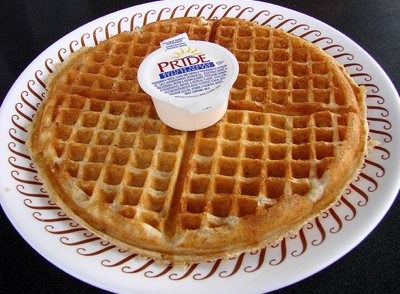 If there's one thing I've learned running HIF, it's that Hiffers love free waffles. I think we could all use a few after this past week.
Waffle House Free Birthday Food
🥞 While this coupon occasionally expires, the Waffle House free birthday waffle is always active!
Check out the waffle house birthday freebie details here.
You'll thank me the next time you're out drunk at 5am and realize you have a coupon in your wallet for a free Waffle House waffle. Though to be honest if you're thinking about coupons at the crack of dawn while intoxicated, you deserve some massive props.
The coupon doesn't expire until Sep. 14, 2020 so there's no rush on killing those brain cells.
Also it's worth noting that most (all?) Waffle House's will accept mobile coupons. That means instead of printing the coupon, pulling the coupon up on your mobile browser in the restaurant should work just fine.
Finally, for those of your unfamiliar with the wonder that is Waffle House, please allow one of my personal heroes to enlighten you. Until recently, Anthony Bourdain had never set foot in a Waffle House. Luckily for us, that injustice was remedied on film before he passed away.