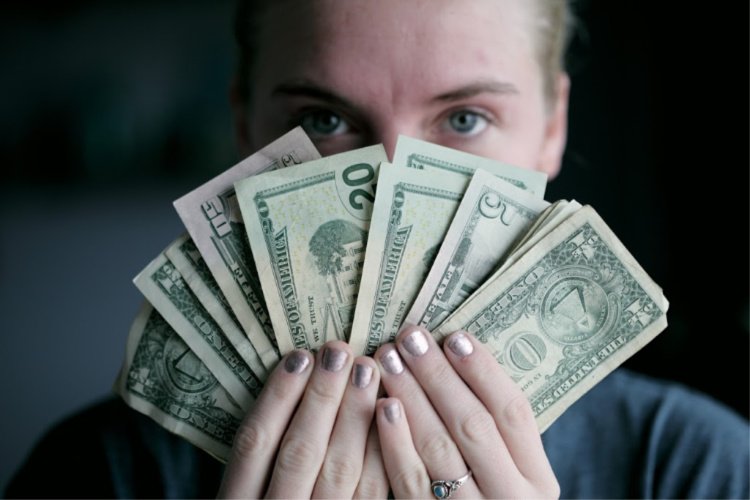 Some Hiffers have already found a few hundred dollars owed to them!
Wow! $113 from an old insurance company! Thanks! 😁
I did a search on your "Missing Money" link and found my husband about $58! Nothing for me (rats), but still great for my husband. Thank you!!! – Barbara
My friends and I have shared various online chats since 2001, but we didn't discover Slack wasn't until 2015. It's now a program I couldn't live without. Goofing off and sharing links throughout the day with each other is so easy, even as we're spread across the globe.
A while back, one of the Slack rooms lit when a buddy of mine found an old link on Reddit about free unclaimed money. The following conversation ensued: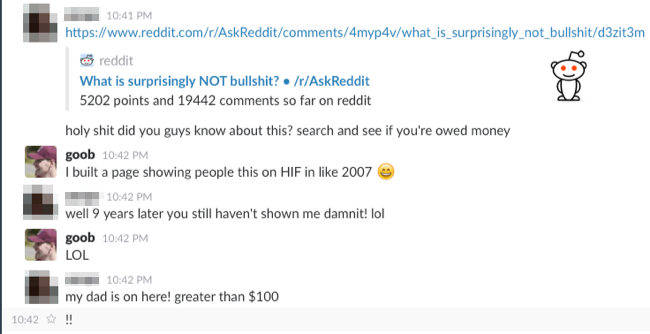 We laughed and my buddy proceeded to call his dad to walk him through claiming his $113. It was only later that it struck me. If one of my good friends didn't know about this page on HIF detailing how to search for unclaimed money, then I bet a ton of readers who haven't been with HIF since Day 1 don't know about it either!
So I decided to dust off this old post and republish it in the hopes that more Hiffers could find some free cash!
Wait, Free Money? What's the Catch?
Long story short, there are a few websites where you can search your name for unclaimed money you're entitled to. This could be money from bank errors, back pay from past jobs or employers, money from stocks, or from a myriad of other ways for money to be owed to you.
If the government owes you money and you do not collect it, then it's unclaimed. This also applies to banks, credit unions, utilities, pensions, and stocks, and many other sources.
As you can see, my buddy found $100 for his dad from a tax rebate he was owed from the mid-90s. The most I've ever found for myself was an $8 check from Verizon. But hey, it was something!
Find Unclaimed Money
MissingMoney.com
The easiest unclaimed money search form is MissingMoney.com. It searches multiple databases at once and is the only officially endorsed aggregate site by the NAUPA (National Association of Unclaimed Property Administrators).
Simply enter your name and state and click "Go." You should also search for any state you've previously lived, worked, or owned property in. If a match is found, you can complete a form that confirms your identity
However, as with most "one size fits all" solutions, it works for most people but not all people. The site doesn't work for citizens in CA, CT, DE, GA, HI, KS, OR, PA, WA, or WY. Similarly, even if you live in a participating state, it's no guarantee that MissingMoney.com has your info.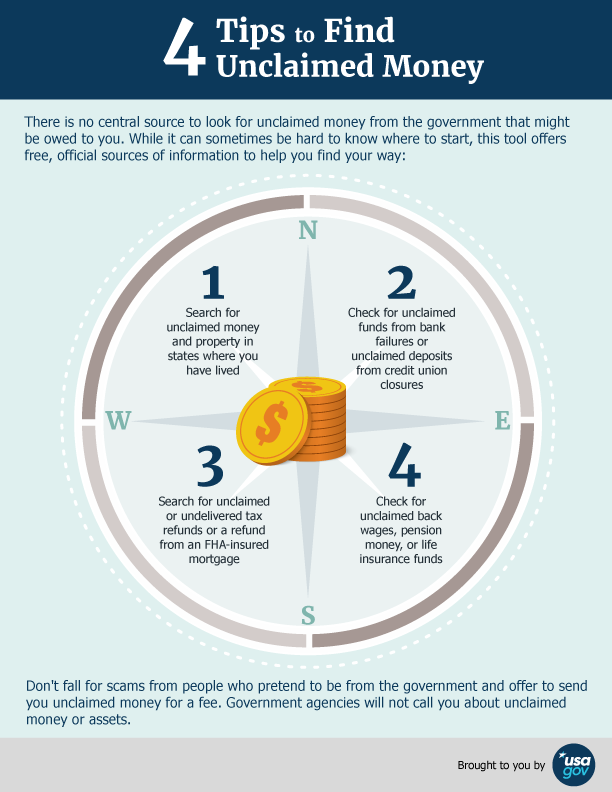 That's why your next stop should be this US Government official unclaimed money guide. They breakdown all of the individual sites you can search for unclaimed money.
While the government doesn't have a central website for locating unclaimed money, they do have specific areas to look based on where the money is coming from.
States' Unclaimed Money
Unclaimed Back Wages
Life Insurance
Retirement
Taxes
Banking, Investments, and Currency
Mortgages
International
Beware Unclaimed Money Scams
Finally, watch out fir people who pretend to be the government and offer to send you unclaimed money for a fee. These scammers use a variety of tricks to get your attention, but their goal is the same: to get you to send them money. Government agencies will not call you about unclaimed money or assets.
Just remember: if somebody asks you to pay for "free" money, then it's not free!
With those tips, hopefully some Hiffers can find some free cash floating around out there. Get started at MissingMoney.com and good luck!
If you find any missing money for you or a loved one, please share the good news with us!