More Baby Freebies Still Being Added!
This page is still under construction, but I've already found so many freebies that I wanted to publish them all! Since the pandemic started, I've literally found new offers to add each time I've worked on this.
I'll remove this notice once I believe I've found every baby freebie available. Until then, enjoy and congratulations!
I'm going to come right out and admit it: I've never had a child. But I did grow up in a household full of kids. And I have tons of friends with one kid to … like, seven? 😬 I can't even begin to imagine the amount of work, time, energy, and money it takes to have a baby. Diaper a child costs approximately $1,000 a year! Show me a parent who doesn't want free diapers and I'll show you a liar!
That's why I put together this huge list of baby freebies. You can get free baby stuff from dozens of places just by asking or signing up.
I've grouped all the free baby stuff by categories and how you get them. Most of these free samples come by mail, but a few require you to pick up your freebie at a local store.
Free Baby Samples
First up are the straight up free baby samples. No, not samples of babies, but samples for babies.
Enfamil
Their free Family Beginnings program offers up to $400 in free gifts! The free gifts for you and your baby are spread throughout your pregnancy, baby's first year and into toddlerhood. Freebies include belly badges to share special moments and formula samples.
As I've written about before, you can also get free Enfagrow Toddler Formula nutritional drink samples. Enfamil will also send you up to $130 in coupon, samples, tips for cow's milk allergy management and more.
Gerber
Signup for a free MyGerber account and they'll send baby discounts and free products throughout the year. Each year they also send out occasional items like free coupons, baby food, and other cool stuff like free bibs!
Gerber also has a cool baby AI chat named Dotti available 24/7. It won't replace the advice of professionals, but I've known a few first time parents who needed some reassuring help from time to time. When one of my best friends had his first child, he texted me asking if he should be worried that his baby's vomit smelled weird. 🤣 Turns out, he was just sleep deprived.
Similac Formula
If free baby formula sounds good to you, then sign up for Similac's StrongMoms Rewards program. They'll send out free formula samples and baby formula coupons with up to $400 in savings.
Vitafol
Vitafol has a free 12-day sample offer kit of their prenatal vitamins.
"This medication is a multivitamin, mineral, and fatty acid product used to treat or prevent vitamin deficiency before, during, and after pregnancy. Vitamins, minerals, and fatty acids are important building blocks of the body and help keep you in good health. This combination product also contains iron and folic acid."
Wait, fatty acids are important building blocks for babies? My mom ate all those LEGOS for nothing…
---
Baby Registry Freebies
Multiple big box retailers have baby registries on their websites. When expecting mothers or fathers create a free registry, they'll receive stuff like free diapers, tons of baby product samples, and unique high value coupons not found anywhere else.
Free Amazon Baby Box
Free Welcome Box with $35 worth of samples for both the baby and the parents.
10% off registry items, 15% off for Prime members.
Full 1-year return window on all items purchased from your registry.
Universal Registry means you can add any item from any website to your list!
Amazon's baby registry starts us off with their free welcome box for Prime members. In order to receive this freebie, you'll need to purchase at least $10 worth of items from your registry. You can purchase the items yourself or have others buy them, either way works.
If you're not a Prime member, you won't be able to get the free welcome box. However, you'll still qualify for the free discounts, extended return window, and bonus diaper discounts.
Free Target Baby Kit
Target is next up with their free baby welcome kit packed with over $120 worth of coupons and samples. This is by far the highest-value baby welcome kit I found, but you will have to pick it up in-store.
Target also has a baby items clearance page with frequently updated discounted baby deals.
Free Welcome Kit with $120 worth of products and savings.
15% discount on any items left in your registry, 8 weeks before the baby's expected arrival.
Universal Registry means you can add any item from any website to your list!
Easy gift tracking to see who gave you what and who you've already thanked.
Free Bed, Bath, Beyond Baby Goody Bag
Bed, Bath & Beyond give away free baby goody bags with samples, coupons, and a copy of their Registry guide. It's for pick up in stores after you create a registry and you get a 10% completion discount off your unpurchased registry items.
Free Walmart Baby Box
Our final Big Box Store offer comes from Walmart. Their bundle of baby essentials contains $40 worth of samples and freebies.
Free Baby Welcome Box worth $40 in savings.
Full 1 year return window on registry items.
Signing up is easy. All you need to do is head here and create a free baby registry. Then reload that page and look for the "FREE Welcome Box" image. Click it, fill out your info, and your free baby box will arrive in the mail in 4-6 weeks.
Free buybuy BABY Baby Bag
If you thought the baby registry freebies were finished, think again! buybuy BABY also has a free baby goody bag with samples, coupons, and a complimentary registry guide. Similar to Target's offer, the buybuy BABY goody bag is only available in-store.
Free Motherhood Baby Pack
Last up is Motherhood Maternity's baby registry. They give out sample products & exclusive offers from Motherhood, A Pea in the Pod, Destination Maternity, and other partners.
Up to $1500 in savings over 12 months.
From what I gather, Kohl's used to have an in-house baby registry program that offered a free kit. However, they've since discontinued their entire baby registry program.
Are you aware of any major baby registry freebies I missed? Please let me know in the comments or by email!
---
Free Baby Products
Free Breast Pump
One of the provisions under the Affordable Care Act requires all health insurance plans to cover the cost of a breast pump. It can either be via a rental unit or one you keep, but either way your insurance company is legally required to provide it.
If you're already paying for your free breast pump in month premiums, then be sure to get it!
Many health insurance companies offer either the Medela Pump In Style or Ameda Purely Yours pump. Be sure to check your health coverage plan and call your insurance company to find out which free breast pump you qualify for.
---
Free Birth Announcements
Unfortunately, while free birth announcements were once a common staple in the freebie world, they've dropped off a cliff recently.
One frugal idea is to use the frequent custom photo print freebies to make your own free announcements. These are regularly given away each month.
Free Birth Announcement Responses
If you have extra birth announcements left over, one cool idea is to send them off and receive responses from unexpected places!
Free Disney Birth Card
Some people report receiving a letter Disney with signatures from Mickey Mouse, Minnie Mouse, Goofy, Donald Duck, and Pluto.
Your best bets are the following two addresses:
Mickey and Minnie Mouse
Walt Disney World
1675 N Buena Vista Dr.
Lake Buena Vista, FL 32830
Mickey and Minnie Mouse
The Walt Disney Company
500 South Buena Vista Street
Burbank, California 91521
Free Papal Blessing from Pope Francis
If a response from the Pope is more up your woods … I mean, alley, then try sending a birth announcement to the Vatican! You can purchase papal blessings by going through your local parish, but we're in the market for freebies here. Therefore, here's the best address to send your card announcing the expulsion from your uterus.
His Holiness, Pope Francis
Apostolic Palace
00120 Vatican City
Make sure not to put Italy on the address, since that's technically a different country!
Free White House Birth Response
For a child's welcome from our Commander in Chief, send your announcement to this address:
President Donald Trump
The White House
1600 Pennsylvania Ave NW
Washington, DC 20500
You can also send a message via the White House website announcing the birth.
Free President Obama and Michelle Obama Birth Response
While they don't have a mailing address, you can inform President Obama and Michelle Obama about your child's birth from their website. Reports are you'll get a response a few months later.
---
Free Baby Diapers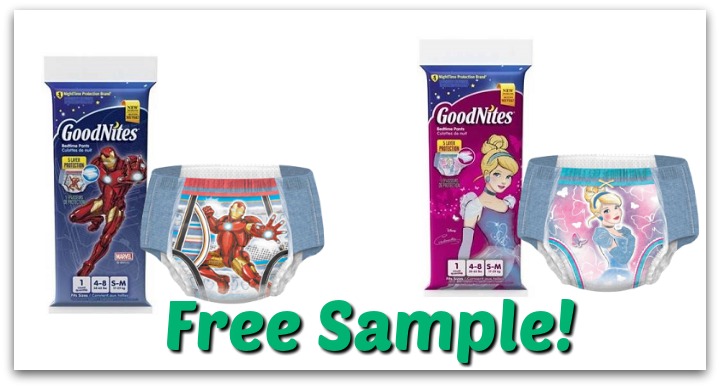 So, let's do good news, bad news. The good news is this'll be short and the bad news is diaper samples are pretty rare these days 😀 From 2006-2012, Huggies and Pampers gave away all sorts of diaper freebies via Walmart. Sometimes they'll pop up in monthly PINCHme freebie boxes, but they don't have many standalone signup forms anymore.
Not to worry though! There are still ways to earn free high dollar & rare diaper coupons, along with the occasional freebies!
Huggies – Joining their free Huggies Rewards program is a must and I have a few free codes to help get your account going! The codes already available are nice and future free codes released throughout the year keep the coupons flowing. Huggies also gives away free diapers for newborns, around April and September during previous years. The most recent free diaper kit was September 2019. When the next one releases, I'll update this section.
There's also a free Huggies coupons section that I'd keep my eye on. They release exclusive free coupons on their own page quite often.
GoodNites, a brand of Huggies, also gives away their own free diapers from time to time. Until then, they also have a dedicated coupon page.
Pampers – The other free account you need to join is their free Pampers Rewards program.
National Diaper Bank Network – To those in need who qualify for support, you may be able to get free diapers.
They also have a free tutorial showing how to use a t-shirt to make a cloth diaper in an emergency situation.
---
Free Baby Coupons
I strongly suggest regularly checking the coupon box below for any high-value diaper coupons that may be available. Just like your newspaper, Coupons.com cycles new baby coupons weekly.
Coupons powered by Coupons.com
---
Free Baby Box from States
While easy to write off as a gimmick, many governments have learned the important lessons of properly spending on early childhood development. For example, 80 years ago in Finland, one out of every 10 children in the country died before age 1. Finland then created a maternity grant program in 1937, where new mothers received access to public health programs along with a maternity package of essential baby clothes and care products.
Now, Finland has one of the world's lowest infant mortality rates!
As a result, a few states have begun offering free baby boxes molded in a similar fashion. California's is the most Finland-eque, while other states have started offering Safe Sleep baby kits. They're typically designed for the first six months of the baby's life and can get received by expecting mothers in exchange for watching a 15 to 20 minute education video showing how to avoid SIDS, Sudden Infant Death Syndrome. Many still come with free education material, diapers, wipes, and even clothes.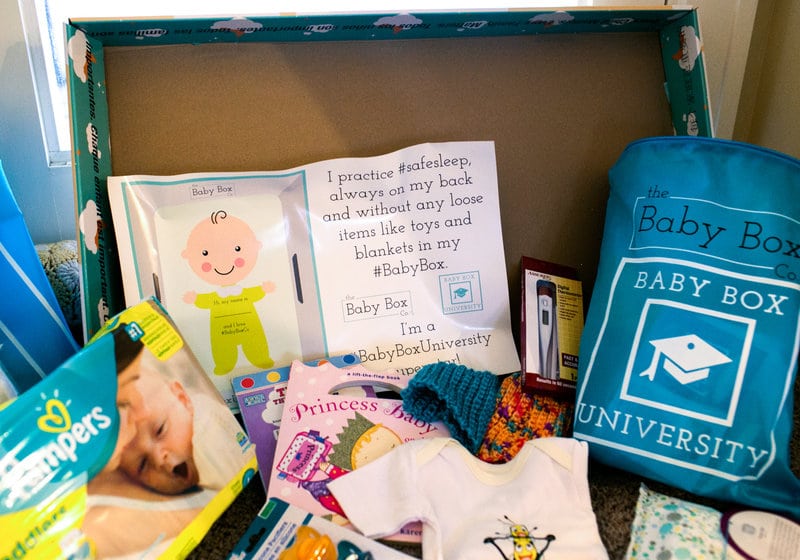 Alabama
Alabama launched their free baby box safe sleep program on March 29, 2017. Residents can contact their local DHR office to pick up their free box.
California
Cali offers a free kit for new parents. It includes an Advice for New Parents DVD, a Puppy and Friends touch-and-feel book for your little one, as well as a Resource Guide to make sure you know of all the services available to you, and much more. Kits are available in English, Spanish, Cantonese, Korean, Mandarin, and Vietnamese.
New Jersey
The free New Jersey baby box is a bit sparse on details. Unfortunately, it's a moot point. New Jersey's entire system was run by Baby Box Co & University, a site which seems to have shut down in January 2020. I'm still trying to track down a confirmation from New Jersey's government, but in the mean time I suggest New Jersey residents contact their local public health departments (LDH) to ask about availability.
Ohio
Ohio baby boxes can be picked up or delivered at no cost. As of 2017, each box contains diapers, wipes, breast pads and nipple cream, parent-child activity cards and other newborn essentials valued at approximately $150.
Unfortunately, it also looks like Ohio relied exclusively on Baby Box Co. Thus, Ohio residents should contact their local health district to ask about availability.
Ohio also offers a safe sleep section along with a free crib for eligible families.
Know of any other states that offer free baby kits for new parents? Or how about a baby freebie I missed? Please share with other Hiffers in the comments!