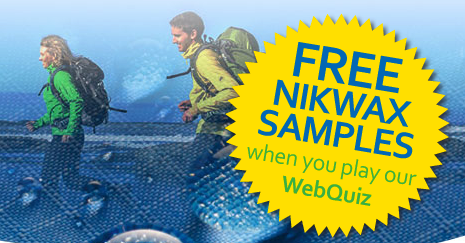 This freebie was originally posted on October 13, 2006 and is available every two months!
I always forget about this free Nikwax footwear cleaning gel sample that we can request every two months. It's probably because you have to take a five to eleven question quiz after signing up and I hate quizzes. They were easily the worst part of school. The threat of a pop quiz always put a timer on my harrowing escapes from inside the gym lockers. I think it's why I get panic attacks simply from a faint whiff of Gold Bond.
If you fail the quiz, you can simply reload the page and try again. Click the "clue" button next to each question and it will take you to the page where the answer is found. It took me about 4 or 5 minutes total and you'll be rewarded with a free bottle of Nikwax Footwear Cleaning Gel.
There's also another freebie of a sachet of Nikwax Waterproofing Wax for Leather that you can get via a shorter quiz. You can also retake this quiz at any time if you mess up.
This is one of the oldest freebies in continued existence. I can remember requesting Nikwax samples back before HIF was even a glint in my eyes. It was a simpler time back then, when people knew their local butcher and kids player freely throughout the neighborhood. And … wait. I really need to stop falling asleep with the TV tuned to old episodes of Leave It To Beaver.