For September 2023 you can get up to 12 free Fractional Shares of stock just for opening an account and funding any amount! Make an initial deposit of ANY AMOUNT (like a single $0.01 penny) and receive 12 fractional shares that are each valued between $3 to $3,000!

That means you'll get a guaranteed $36 with the chance to get all the way up to $36,000!

If you haven't created a Webull account yet, I'd be sure to snag your free stock shares while you still can!
You may remember Robinhood's awesome free stock promotion where you received a free share of stock that could be worth up to $300. A few Hiffers even got the mega-expensive stock shares for free and were able to cash out within weeks!
Well, you know what they say about success, imitation, and flattery. Enter Webull Financial!
They saw Robinhood blasting off to the moon and thought "hmmm, we could do that too." But what's a good way to differentiate themselves? Oh, I know, offer up to a dozen free fractional stock shares that could be worth up to $36,000! 🤑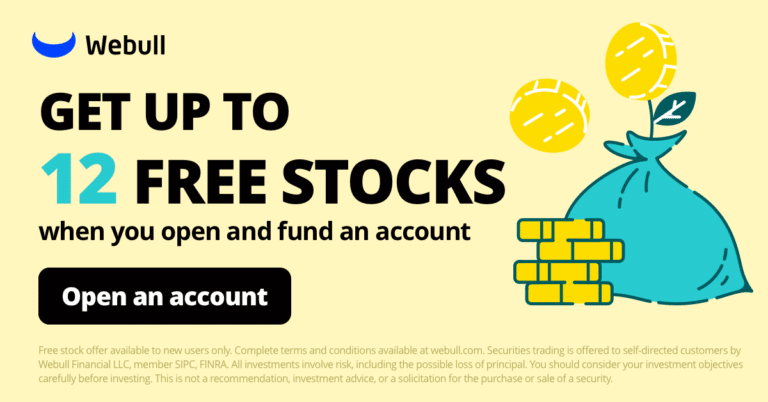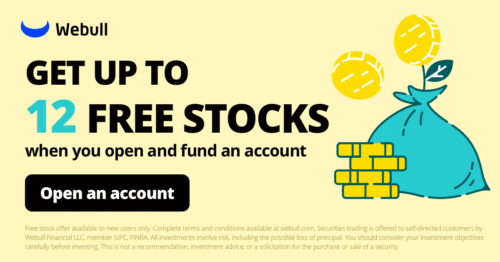 What's Webull
Similar to Robinhood, Webull offers zero commissions stock trading with their free mobile app. They're a registered broker dealer with the SEC and a member of FINRA. Webull Financial LLC is also a member of SPIC, which is the stock version of insurance like FDIC is for banking. SIPC protects your securities up to $500,000 ($250,000 of cash). I wouldn't keep anything above that on my account, but then again I'll never have that much money 🤣
Their main goal is to bring free stock trading to the masses. Gone are the days of paying a $7 commission just to buy or sell stock. With Webull you get free trading of stocks, both buying and selling.
This means you get unlimited free trades, with no minimum balance, along with a boatload of investment and research charts, information, and news – something I found lacking from Robinhood.
So how do they make money while offering free trades? By having a lot of customers! Webull makes tiny amounts of money on cash balances, interest, and premium memberships, so they don't charge crazy-high fees just for selling stock.
Obviously, Webull hopes we become lifelong members. But for our intents and purpose, we just want that sweet, sweet free share of stock!
Free Cryptocurrency Trading
Webull crypto also has a section where you can buy and sell various cryptocurrencies for free. The main cryptos they seem to carry are bitcoin, ethereum, litecoin, cardano, dogecoin, and shiba.
If you wish, you can sell your free stock and use the profits to invest in crypto instead!
Practice for Free
Have you ever imagined trading on the stock market with millions of dollars? Well you can use their free paper trading feature to "buy" unlimited stocks with fake, paper money. Not only is this fun to see how you'd do with lots of money, but it's also useful for practicing your trading skills before risking actual money! Then, once you get the hang of things, you'll feel more comfortable using real money to place orders.
Earn Bonus Free Shares
Webull also gives referral bonuses of free stock for every friend and family member you get to join with your referral link.
Get your free share of stock now!
Get your Free Stocks
To get your free shares of stock, you need to do the following easy steps within 24 hours! If you take longer than 24 hours to sign up, you won't get your free shares!
Upon registering, follow the prompt to download the Webull app for your Apple iPhone or Google Android mobile phone.
Wait for your account to be approved. Mine took around an hour, but I've seen some people take up to a full day.
Open the app on your mobile devices and make any deposit of any amount. You can deposit as little as a single penny
Once your deposit clears, receive your free fractional stock shares, each worth anywhere from $3 to $3,000!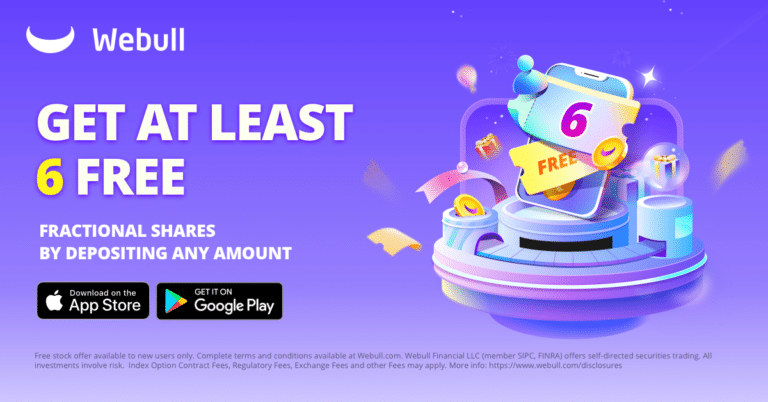 From the same screen, you can invite any friends and family to Webull for even more free shares.
What to do with your Free Stocks
Your stocks will be credited to your account within 10 business days. After that, you can do whatever you want with it! You can sell them for cash, keep them for a long-term investment, transfer into crypto trading, or even transfer them to a different platform. Though I think you'll agree the Webull app is far superior for compared to other free stock apps!