You have a few days left to get your freebies of one free share of stock just for opening an account. This great offer is worth at least $3 and could be valued up to $300! In addition, if you make an initial deposit of only $5, you get another free stock valued between $8 and $2,000!

If you haven't created a Webull account yet, I'd be sure to snag your free stock shares while you still can! This promo ends 8/31/21.
You may remember Robinhood's awesome free stock promotion where you received a free share of stock that could be worth up to $300. A few Hiffers even got the mega-expensive stock shares for free and were able to cash out within weeks!
Well, you know what they say about success, imitation, and flattery. Enter Webull Financial!
They saw Robinhood blasting off to the moon and thought "hmmm, we could do that too." But what's a good way to differentiate themselves? Oh, I know, offer free stock shares that could be worth up to $300! 🤑
What's Webull
If you've never heard of Webull, you're not alone because they're a relatively new company based out of New York City. Just like Robinhood, Webull is a registered broker dealer with the SEC and a member of FINRA and SIPC.
Their main goal is to bring free stock trading to the masses. Gone are the days of paying a $7 commission just to buy or sell stock.
This means you get unlimited free trades, with no minimum balance, along with a boatload of investment and research charts, information, and news – something I found lacking from Robinhood.
So how do they make money while offering free trades? By having a lot of customers! Webull makes tiny amounts of money on cash balances, interest, and premium memberships, so they don't charge crazy-high fees just for selling stock.
Obviously, Webull hopes we become lifelong members. But for our intents and purpose, we just want that sweet, sweet free share of stock!
Get your free share of stock now!
Get your Free Stock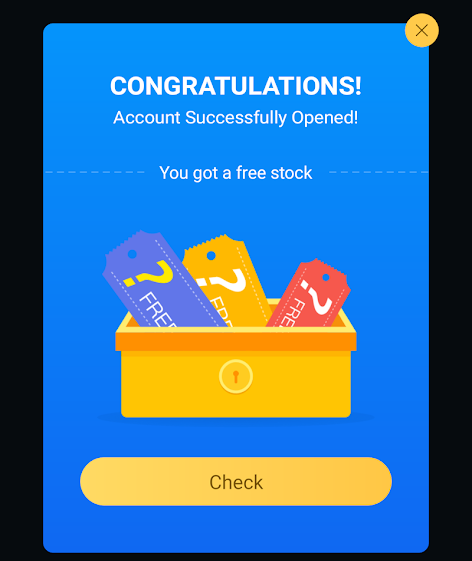 To get your free share of stock, you need to do the following easy steps within 24 hours! If you take longer than 24 hours to sign up, you won't get your free share!
Upon registering, follow the prompt to download the Webull app for your iPhone or Android.
Wait for your account to be approved. Mine took around an hour, but I've seen some people take up to a full day.
Open the app, click the left menu, and then click "My Free Stock."
Once your account is approved, you'll see a "CONGRATULATIONS!" message with a giant "GET" button next to it.
Click it and claim your potentially valuable free share!
From the same screen, you can invite any friends and family to Webull for even more free shares.
When I signed up, I scored a free share of ABEV, the parent company of Anheuser-Busch. It was valued at $4.49 but has since dropped like a rock, haha. Hopefully people keep drinking and drive the price back up. 😂
What to do with your Free Stock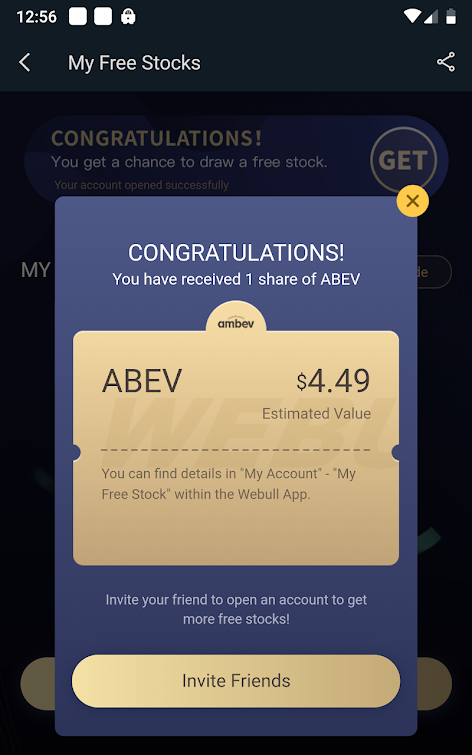 Your stock will be credited to your account within 10 business days. After that, you can do whatever you want with it! You can sell it for cash, keep it for an investment, or even transfer it to Robinhood if you prefer that app. You can also transfer your no-cost Robinhood stock over to Webull if you like this app better.