It's hard not to love this free stock program from Robinhood. Thankfully, this promotion is still kicking in the new year, so be sure to pick up your free stock using the guide below.
Be sure not to miss out on this! 3,400+ Hiffers have now
joined and gotten free stock
worth over
$5,000
$12,500(!)
$16,500(!!)
$20,000(!!!) since I first published this. Nine Hiffers received shares of Apple, worth $175, and eight more Hiffers received shares of Facebook, worth $328!
And don't forget Webull also gives out free stock shares to new customers!
I'm not a huge stock trader. I'm more of a sock trader, in that I'm always unwittingly trading left socks with the gremlin in my washing machine.
When I first started investing, I found tradition brokerage fees of $7 per trade to be way too expensive. That's why I joined Robinhood many years ago and never looked back. It's an online brokerage with commission-free trading and no monthly fees designed for beginners. It's available from both a desktop computer or mobile app on your smartphone.
What sets Robinhood apart are their no-fee trades, which means you never pay a commission or transaction fees when you buy and sell stocks or cryptos. The concept of free stock trading was so popular, that now other trading apps have copied Robinhood!
It's also completely safe, as it's officially licensed & regulated by FINRA and are regulated by SIPC just like all the big Wall Street or financial companies, like Charles Schwab or Vanguard.
As luck would have it, Robinhood is running a promo giving away free share of stock to anybody who joins! For no money whatsoever, you can get a free share of a surprise stock. While it's completely random what you get and the value of your stocks, but you have a 1-in-100 chance to get a value of at least $20 and 1-in-1000 get at least $50 in reward stock.
The minimum lowest stock you can get is a fractional share priced at $5, so you're guaranteed at least something! You can also convert your free stock into any other stock or into crypto like bitcoin or ethereum.
As of 2023, you have a chance at getting stock in the following portfolio of S&P 500 companies:
Apple (AAPL)
Microsoft (MSFT)
Amazon (AMZN)
Facebook (FB)
Alphabet Inc. Class A (GOOGL)
Tesla (TSLA)
NVidia Corp. (NVDA)
Berkshire Hathaway Inc. (BRK.B)
Nike (NKE)
Disney (DIS)
Visa (V)
Johnson & Johnson (JNJ)
Walmart (WMT)
Procter & Gamble (PG)
Comcast (CMCSA)
General Motors (GM)
Eli Lilly (LLY)
Honeywell International (HON)
Applied Materials (AMAT)
How to Get a Free Share of Stock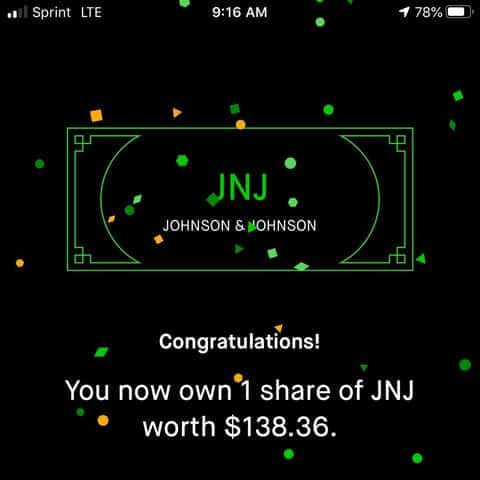 Hiffer Jenn recently got a free share of Johnson & Johnson worth over $138!
To get your free share of stock, simply join and wait for your account to be approved. This typically takes less than one business day. Remember, you must be a new Robinhood account holder who hasn't previously registered an account!
You must be referred by somebody in order to get your free share, so it's important you go through a link here on HIF. You can only have 1 account per person, so they confirm your identity with your social security number (similar to how tobacco freebies work!) using bank-level SSL and 128-bit encryption.
After your account is approved, open the app and click on the "Free Stock" link in the menu. You should then have a share of stock to claim! You then have to wait 2 business days before you can sell the stock and then wait another 30 days before you can transfer & withdraw the money out of the app and into your bank account.
At this point, you can also earn additional free stock shares by sending your referral link to friends and family. As you invite friends to open free accounts, you'll get up to $500 more in free stock per calendar year.
As the numbers show at the top of this post, HIF has a lot of readers who've taken advantage of this great off. A ton of them earned shares of those mega expensive stocks! In fact, I'd love for Hiffers to share what they got in the comments just so we could see how much free money was given out.
Robinhood has complete full terms and overview of this promo on their site, which are very easy to read. They also contain some frequently asked questions about the rules, regulations, and referral program.
So there you have it! So if you've ever wondered if the free stock from Robinhood offer was legit, now you see it clearly is! Fingers crossed you're one of the lucky Hiffers to hit it big with a share of Facebook or Apple. Good luck!