It's hard not to love this freebie from Robinhood. It's thankfully still kicking in the new year, so be sure to pick up your free stock using the guide below.
Be sure not to miss out on this! 3,300-ish Hiffers have now
joined and gotten free stock
worth over
$5,000
$12,500(!)
$16,500(!!) since I first published this. Seven Hiffers received shares of Apple, worth $175, and four more Hiffers received shares of Facebook, worth $179!
I'm not a huge stock trader. I'm more of a sock trader, in that I'm always unwittingly trading left socks with the person using the washing machines after me at the laundromat.
When I first started investing, I found the online brokerage fees of $7 per trade to be a bit steep. That's why I joined Robinhood a few years ago and never looked back. They're an app-based brokerage account regulated just like all the big Wall Street companies. What sets Robinhood apart are their no-fee trades, which means you never pay a commission when you buy and sell stocks. The only drawback is they don't have great research options, but I always got around that by using all the free research tools on other websites. Then I go back to Robinhood and make my free trades there 🙂
While that's all well and good, Robinhood is running a promo giving away free share of stock to anybody who joins! For no money whatsoever, you can get a free share of a surprise stock. While it's completely random what you get, you have a 1 in 150 chance of getting a share of Facebook ($178.92), Apple ($172.50), Microsoft ($84.14) and a 1 in 100 chance of getting a share of Ford ($12.36), AMD ($11.12), or Vereit ($7.92) – all for free! The lowest stock you can get for free is priced at $2.50, so there are no garbage or penny stocks being offered here.
How to Get a Free Share of Stock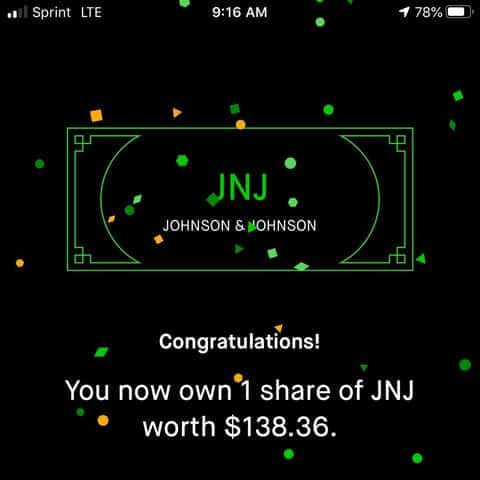 Hiffer Jenn recently got a free share of Johnson & Johnson worth over $100!
To get your free share of stock, simply sign up via their app and wait for your account to be approved. You have to be referred by somebody in order to get your free share, so it's important you go through a link here on HIF. You can only have 1 account per person, so they confirm your identity with your social security number (similar to how tobacco freebies do!) using bank-level SSL and 128-bit encryption.
After your account is approved, open the app and click on the "Free Stock" link in the menu. You should then have a share of stock to claim! You then have to wait 2 business days before you can sell the stock and then wait another 30 days before you can transfer the money out of the app and into your bank account.
With the number of readers HIF has, I'd be shocked if a few Hiffers didn't get a share of those mega expensive stocks! In fact, I'd love for Hiffers to share what they got in the comments just so we could see how much free money was given out.
Robinhood has an overview of this promo on their site, along with a few FAQ about it.
Fingers crossed you're one of the lucky Hiffers to hit it big with a share of Facebook or Apple. Good luck!