By now I bet you've heard about Amazon's Prime Day, a 24-hour event on July 15 that Amazon promises to rival Black Friday. There will be "thousands of lightning deals," with new ones popping up as frequently as every 10 minutes, along with seven "deals of the day." While anybody can view the deals, the kicker is that only Amazon Prime members will be able to purchase them.
From the sneak-peak offers I've seen, I'm convinced there will be some crazy sick deals, but I also think many will fall into the category of nice deal if you're already in the market for X." You're probably not going to hop on tomorrow and impulse buy a 32-inch LED TV just because it's $75 off. But if you're in the market for a certain item, chances are there will be a deal worth investigating.
That said, I'm personally psyched for the Amazon Fire Stick being $25, down from $40. The Fire Stick is Amazon's fasting selling device of all time and it's easy to understand why. I'm actually launching a new site next month teaching people how to cut their cable bill, save tons of money, and still keep all their favorite TV shows and sports.
Cheap devices like a Chromecast or Fire Stick are vital for pulling this off and the Fire comes with a remote control, which I've quickly grown to wish my Chromecasts had. If you've ever entertained the thought of canceling or slimming down your seemingly ever-growing, out of control cable bill, I'd strongly recommend picking up a Fire tomorrow. Spend $25 tomorrow and potentially save hundreds if not thousands in the not-too-distant future.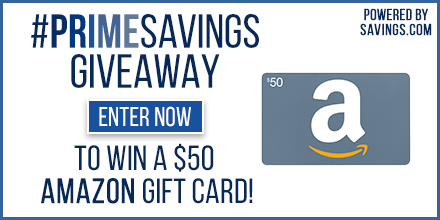 As if tomorrow wasn't awesome enough, Savings.com is celebrating Prime Day by giving away $1,000 in Amazon gift cards! Twenty total winners will each receive a $50 gift card and all you have to do is enter your email before July 16 at 11:59pm ET for a shot at winning one. You don't need to have Amazon Prime nor do you need to shop tomorrow to enter either! Winners will be notified by Tuesday next week, so if hope to get some comments from a few happy Hiffers then!