Similar to tea samples, free coffee samples have been a popular freebie given away since I started Hey, It's Free. Thankfully, as of 2020, they're still frequently offered, even by big companies! Dunkin gave away samples of their coffee just a few months ago and Folgers seems to release an offer at least once a year.
There are also National Coffee Day freebies and samples given away each year in September.
While we wait for the next giveaway, here are some of our free coffee japes from the archives.
---
This free coffee booster offer has been around for a few days. Gotta say, if your coffee leaves you feeling like it needs a boost, either you need some new coffee or you're probably drinking tea.
---
When I first saw this free Berres Brothers coffee, I confused it with De Beers. Let's just say I wasn't too excited about drinking diamonds.
---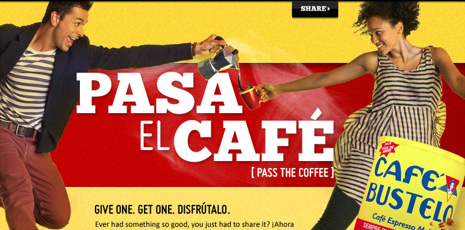 I had some trouble signing up for free Cafe Bustelo coffee on Facebook, but I think it's worth the hassle. Look at how happy those people are! They're either so in love with this coffee that the mere thought of it makes them want to dance or they're on drugs. I'm pretty sure those are the only two explanations. Either way, I'm in!
---
I have a brother named Thomas so I gave him a call after seeing the free Thomas coffee offer. I asked him questions like how much and what flavor of coffee we'd be getting. He wasn't too helpful though and in fact only screamed obscenities at me for waking him up at four in the morning. Oh, well excuse me for not memorizing your darn sleeping patterns!
---
I've never heard of this free Marley One Love organic coffee before. They use "100% Ethiopian Yirgacheffe coffee beans," so that really clears things up for us.
---
Walmart is giving away free Maxwell House k-cup coffee. Thankfully you don't have to be named Maxwell or live in a house in order to get this!
---
If you skipped the old offer for free Green Mountain coffee last time because you don't have a Keurig machine, then you'll be happy to know I was wrong. I previously "reported"" that it was in k-cup form only, but you can request ground coffee instead.
Thanks to all the Hiffers who pointed this out! Now could one of you could tell me where the heck I left my jacket? It's cold now and it's getting kind of ridiculous walking around the streets with a Ninja Turtles comforter wrapped around me.
---
Kroger and their related stores are offering free Skinny Cow Creamy Iced Coffee to those of us who somehow believe eating Skinny Cow products will make us skinny.
*slowly raises hand*
---
In order to get free PurPod coffee k-cups, we're supposed to wait for an email. But why wait when I've got the link right here for you?
It's like when you go to the dentist. Sure, you could sit in the lobby waiting for your name to be called, but what is this, the 1950s? Everybody knows the fastest way to get in and out is to simply walk on back and start cleaning your own teeth in the first open room you find.
Plus I've yet to find a cavity. Woohoo, perfect record!
---
If you've ever texted an emoji to a friend or loved one and thought to yourself "gee, I sure would love to drink some coffee based on this funny face," then I've got some great news for you! There's a new brand of java on the market and they're giving away free Emoji K-Cup coffee samples for a limited time.
Sign up and go from 😴 to 😲 in 4 to 6 weeks.
---
Look for the image above in order to get some free Peet's Major Dickason's coffee. The true story behind this sample's name is a bit tame, so I like to picture a battalion of soldiers trying to subdue their enemy with coffee grenades and deadly creamer.
---
Target's site is bogged down at the moment. Or heck, maybe it's just not working in Chrome. Either way, there's something between me and my free Peet's coffee k-cups and I WON'T STAND FOR THIS!
*Sits down. Site still won't load.*
Well I'm fresh out of ideas.
---
---