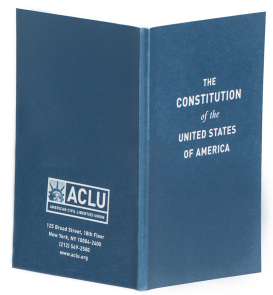 This freebie from June 2006(!!) has restocked!
If you're always wondering which Amendment promises no cruel and unusual punishment (it's the 8th) or which promises freedom of speech (1st) or even which promises free jelly beans on Tuesday (sadly this one hasn't been passed yet), then pick up a copy of this free United States Constitution from the ACLU.
After submitting your address, you'll get a confirmation page saying your freebie is on the way along with a donation area asking for support for the ACLU. You can close this window without entering any credit card info and you'll still get the freebie!